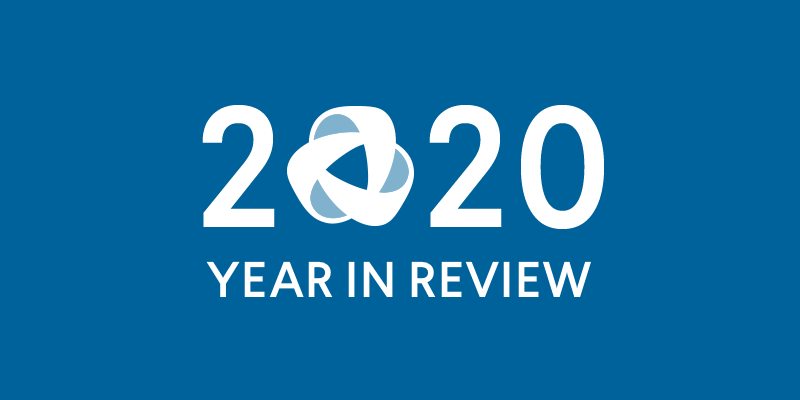 Despite the stressors and challenges sparked by the COVID-19 pandemic, we at AACE are grateful that 2020 has proven to be a transformational and productive year. This will always be the milestone year that brought the adoption of our new organization name, updated mission and rebrand.
Together, we worked quickly to meet the challenges of the pandemic head-on, keeping the health and wellbeing of our staff, members and the endocrine community top of mind. We found innovative ways to respond to the immediate needs resulting from the health crisis and successfully transitioned nearly all organizational activities to virtual platforms, allowing us to continue to provide critical educational support to our endocrine community.
Below are some of our top highlights of 2020. Though much has changed this year, what has not changed is our commitment to supporting our community members, elevating clinical endocrinology and improving the lives of people with endocrine conditions.  
A New AACE Brand
The AACE Community
AACE continues to be a global, inclusive community of more than 5,700 endocrine-focused clinical members, affiliates and partners from every walk of professional life.
In late 2020, AACE also launched a new community engagement structure with distinct tiers for engagement benefits at affordable prices, as well as welcomed three main categories of participants:

Endocrinologists, as leaders with voting privileges and Board eligibility

Healthcare professionals

Endocrine care advocates
Meeting the Challenges of COVID-19
At the onset of the COVID-19 pandemic, AACE created the COVID-19 Resource Center to house AACE position statements related to COVID-19 and endocrine conditions, as well as educational telehealth resources, industry news and more.
AACE leaders also helped to educate the public through media interviews with dozens of outlets. Some highlights include:

An article in The New York Times

 

that featured Immediate Past President Sandra Weber, MD, FACP, FACE, speaking about the risk of COVID-19 to people with diabetes. An op-ed on the topic by Dr. Weber was also featured in MedPage Today.
An additional article from The New York Times featuring Dr. Weber and chair of the Lipids and Cardiovascular Health Disease State Network Scott Isaacs, MD, FACE, FACP, speaking about the role endocrinologists in treating patients during the pandemic.
President Howard Lando, MD, and Secretary Susan Samson, MD, PhD, authored an op-ed in MedPage Today regarding greater adoption of telehealth resources beyond the COVID-19 pandemic.
Virtual Learning and Education
Patient Education
To increase public awareness of thyroid disease, AACE launched the Up To Here campaign, which draws inspiration from the idea that many people with thyroid diseases are figuratively "up to their necks" in frustrating symptoms.

The campaign achieved the following:

Drove more than 130,000 clicks to AACE's ThyroidAwareness.com
Won a first-place prize at the Modern Healthcare Impact Awards in the Integrated Campaign, Advocacy category
Featured a video that was accepted in the American Public Health Association 2020 Film Festival

In conjunction with Diabetes Awareness Month in November, AACE launched The Lowdown on Low Blood Sugar campaign to raise awareness of hypoglycemia and help people at risk be prepared for a low blood sugar emergency.

The campaign directs people to AACE's patient-focused website BloodSugarLows.com, and conducted a digital takeover of The New York Times front page, which resulted in exposure to approximately 4 million people.
The campaign is ongoing, and has also received coverage in Buzzfeed via this article and this quiz.

Promotion of Prescription Help, a directory of prescription affordability programs and resources for endocrine patients, resulted in a 400% year-over-year increase in visitors to that online resource in 2020.
With the onset of the COVID-19 pandemic, AACE's promotion of My Diabetes Emergency Plan, an online resource that provides a convenient checklist of the essential items those with diabetes need to have readily available in the event of an emergency, led to a 1,000% year-over-year increase in web visitors in 2020.
Advocacy
CMS will implement a new evaluation and management fee schedule that, consistent with AACE advocacy, will increase endocrinologist reimbursement on average by 16%. In addition, a new complex patient visit code, G2211, will allow physicians to track time spent on chronic disease management.
AACE actively advocated for Endocrinologists and their patients to relieve practice burdens during the ongoing COVID-19 public health emergencies.  Successes included expanding access to use of telemedicine as well as payment parity for telemedicine and in-person visits. AACE also supported CMS waivers of coverage requirements for insulin pumps and continuous glucose monitors, granted many patients much needed access to vital diabetes technologies.
Website and Social Media
In the past year, our AACE websites have welcomed over 1.4 million people who viewed over 3 million pages of content from all over the world.
Redesigned in October 2020, the new AACE.com represents our global community, with the main aace.com site providing important endocrine resources and information to our public audiences, and our professional portal (pro.aace.com) focusing on the critical clinical resources we've long provided for healthcare professionals. AACE.com is a work in progress, and we look forward to building more great resources and content for all of our audiences next year.
AACE continues to expand its digital reach, including a broadening social media presence.

AACE's social posts captivated more people than ever, with a total of more than

7.6

impressions (that's how many times one of our posts appeared on a screen) and

over 300,000 

engagements (a 620% increase versus 2019!) in 2020 across channels like Facebook, Twitter, and LinkedIn.
Thanks for a great year!
And those are just the highlights. We look forward to continuing our work to elevate endocrinology to improve global health next year and the many years to come. Join us!