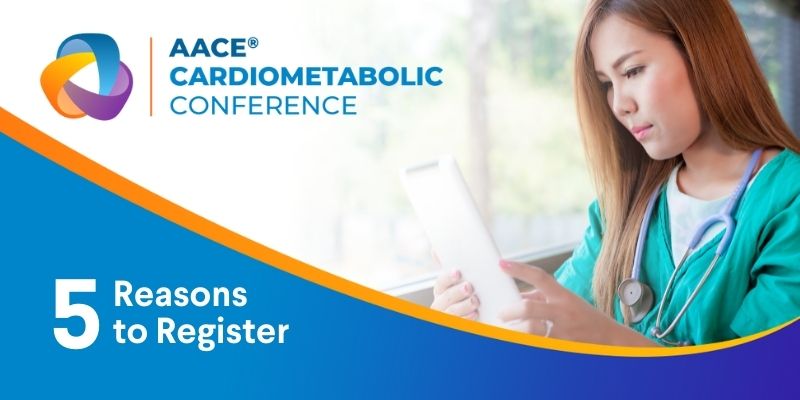 An estimated 47 million people in the U.S. are living with cardiometabolic disorders, putting them at an increased risk of developing heart disease, kidney disease, and or liver disease, whether they may or may not additionally have type 2 diabetes. As the number of people living with cardiometabolic disease is expected to rise, new evidence-based interactions to improve health outcomes are being developed and AACE is at the forefront with the latest advancements. Join us virtually on October 8-10, 2021, for our annual Cardiometabolic conference to learn about the latest clinical practice guidelines in cardiometabolic disease, including type 2 diabetes and cardiovascular risk/heart failure, obesity, and chronic kidney disease. We have a full line up of state-of-the-art-lectures, advanced learning workshops, industry roundtable discussions, abstracts and more, all focused on evidence-based assessment and treatment options for patients with cardiometabolic disease. To sum it all up, we've listed the top five reasons to attend.
Top Five Reasons to Attend #AACECVMET
Hear the latest from leading experts in the field, learn cutting-edge management and treatment tools: Whether you're an endocrinologist, cardiologist, nephrologist, gastroenterologist/liver disease specialist, primary care physician, physician assistant, nurse practitioner, nurse, or any member of the endocrine care team, you'll find our cardiometabolic conference offers a variety of sessions covering the latest developments in cardiometabolic disease. By the end of the meeting, attendees will be able to:
Utilize the latest clinical practice guidelines on cardiometabolic disease, including type 2 diabetes and cardiovascular risk/heart failure, obesity and chronic kidney disease.
Summarize key characteristics of evidence-based assessment and treatment options for patients with cardiometabolic disease.
Discuss barriers in being able to manage the risk factors as well as the ability of a diverse population of patients to carry through recommendations for a healthier lifestyle.
Update cardiovascular risk management approaches that remain controversial without consensus as to best approach.
Engage with a multitude of leaders from the field of cardiometabolic medicine: Our conference is created for the care team by the care team. Meet with leaders from the field of cardiometabolic medicine to learn about clinical practice guidelines, treatment options, and technology advancements to optimize patient outcomes. Our cardiometabolic program committee leaders have developed a comprehensive conference that will cover all aspects of cardiometabolic disease, including sessions about:
Obesity medicine, nutrition and wellness
Type 2 diabetes and cardiovascular risk/health failure
Chronic kidney disease, renal failure
Diabetes technology
SGLT-2s, GLP-1 RAS
NASH/NAFLD
Hypertension
Dyslipidemia
Patient challenges in ability to self manage chronic illness
Interactive workshops and networking opportunities: We're excited to offer a variety of interactive workshop opportunities throughout the conference. Attendees can meet with cardiometabolic experts, ask live questions, and make new connections. Our conference will also feature daily e-poster gallery viewing and a virtual expo hall to meet with industry sponsors and learn about new technical advancements in cardiometabolic disease. View our comprehensive schedule here.

 

Earn up to 12.5 CME/CE: The conference content will be delivered through interactive learning sessions, including workshops using case-based learning, audience response system (ARS) and interactive group discussions. By registering you can earn up to 12.5 CME/CE, plus access on-demand sessions through October 10, 2022 to earn additional CME credit. Learn more about our conference accreditation here.

 

Discounted pricing: AACE is pleased to offer special early bird discounted pricing to all registrants until September 17, 2021. Take advantage of our early bird discount and register today to start receiving conference highlight updates. As leading endocrinology experts, we are committed to providing easily accessible and affordable educational opportunities for managing at-risk patients. Learn more about our discounted pricing and how to register here.
Don't just take our word for it. Here what attendees from last year had to say about our annual cardiometabolic conference:
2020 Testimonials:
This was a great conference, with outstanding speakers, excellent Q & A and a comfortable schedule. I will definitely be back to next year's conference." – Dr. Jonathan Leffert

 

"The meeting surpassed my expectations. It was exciting to learn how what we do in endocrinology is so closely tied to various other fields like cardiology, hepatology, nephrology and bariatric medicine…" – Dr. Suchithra A. Nancherla

 

"AACE's Cardiometabolic Conference gave me the tools for improving the quality of my daily attention to my patients." – Dr. Cruz Reyes

 

"A great meeting of the minds in many interrelated disciplines. One of the best I've ever attended." – Dr. Fred F Ciarochi

 

"The 2020 conference was fantastic. I was so grateful for the opportunity to consolidate my knowledge of the guidelines and evidence-based treatment of diabetes and related medical conditions, and to interact with medical professionals whose research papers, reviews and videos I learn from all year." – Dr. Takira Glasgow

 

"Innovative and excellent meeting to keep ourselves updated in Endocrinology. Highly recommend." – Dr. Saeed Maha

 

"Extremely valuable conference with practical clinical use. The workshops were amazing." – Dr. Varalakshmi Niranjan

 

"Excellent presentations from well versed presenters and up-to-date knowledge." – Dr. Kamran Rasul

 

"One of the best organized meetings, especially during this pandemic. The conference was crisp and above my expectation." – Dr. Riyaz Mohammed

 
Don't miss out on our leading cardiometabolic conference. Learn more about our comprehensive schedule and how to register today!