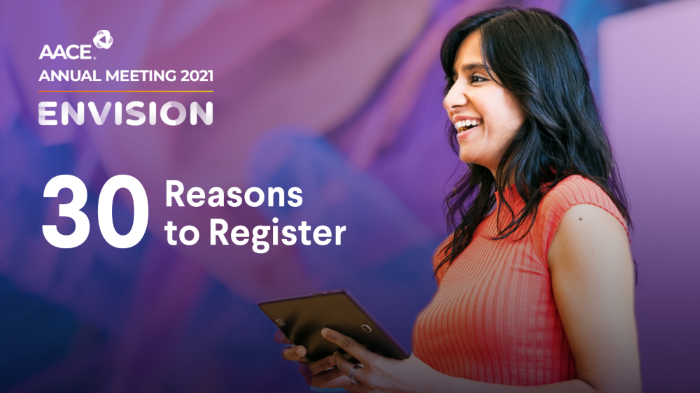 Have you registered for our 2021 Annual Meeting, Envision? As the world's largest endocrinology meeting, we welcome medical professionals from the field of clinical endocrinology at all stages in their career. Join your peers for four days of virtual education programming, expert presenters, interactive sessions, abstracts, and more. If that's not enough to get you excited, check out 30 reasons why you don't want to miss it!
30 Reasons to Register for our 30th Annual Meeting
Thousands of Attendees – Join our global community of multidisciplinary attendees for an engaging conference featuring the latest advancements in the management of endocrine disease.

Multidisciplinary Teams – We created a meeting for the whole endocrine care team – there's something for everyone! Join other multidisciplinary medical professionals including endocrinologists, cardiologists, nephrologists, primary care physicians, physician assistants, nurse practitioners, nurses, pharmacists and more for a comprehensive education program with over 100 sessions to select from.  

150+ Speakers – Our speaker lineup will be presenting breakthroughs in endocrinology scientific research, new technologies for improving patient care, and much more. View the full program here.

86+ Credit Hours – By attending our annual meeting you can gain up to 86+ hours of CME, Nursing and Pharmacy Credits. 

New AACE Advanced Diabetes Technology Guideline – The new AACE Clinical Practice Guideline: Use of Advanced Technology in Management of Persons with Diabetes Mellitus will be presented at our annual meeting. Join us to learn about the recommendations for: 
Clinical use of continuous glucose monitors (CGM) 
Continuous subcutaneous insulin infusion via insulin pumps 
Integrated systems (insulin pump - CGM) & more! 
Four Days of Virtual Education Programming May 26-29 – We have a full lineup including state-of-the-art lectures, advanced learning experiences, engaging sessions, expert panel discussions, abstracts and more!   

100% Virtual – This is a great opportunity to join from anywhere in the world and ask live questions from leading experts! Plus, you'll have the option to access all content on-demand after the meeting to earn additional CME/CE/MOC Credits.   

Six Topic Tracks to Attend with 100+ Sessions!
Diabetes  
Nutrition and Obesity  
Thyroid  
Lipids and Cardiovascular Health  
Pituitary and Neuroendocrine  
Bone and Parathyroid  
Six Disease Specific Plenary Sessions:  
Diabetes Plenary: "The Discovery of Insulin Revisited: Lessons for the Modern Era"  

Presented by Gary Lewis, MD, Professor, University of Toronto 

Nutrition and Obesity Plenary: "Obesity, Genetics, Precision Medicine" 

Presented by Sadaf Farooqi, MBChB, PhD, FRCP, Principal Research Fellow and Professor of Metabolism and Medicine at the University of Cambridge, UK 

Thyroid Plenary: "Epidemiology of Thyroid Cancer: 2021"  

Presented by Megan Hayman, MD, Nancy Wigginton Endocrinology Research Professor in Thyroid Cancer and Professor of Medicine at the University of Michigan 

Lipids and CV Health Plenary: "Should Omega-3 Fatty Acids Be Administered to High CV Risk Patients with Elevated Triglycerides?"  

Presented by Steven Nissen, MD, Chief Academic Officer, Heart and Vascular Institute, Cleveland Clinic 

Pituitary and Neuroendocrine Plenary: "Personalized Treatment in Acromegaly"  

Presented by Maria Fleseriu MD, FACE, Professor and Director OHSU NW Pituitary Center Professor of Neurological Surgery, School of Medicine 

Bone and Parathyroid Plenary: "Vitamin D in the era of Precision Medicine"  

Presented by Michael Levine, MD, Director, Center for Bone Health, Children's Hospital of Philadelphia 
Keynote Presentation – Join Tait Shanafelt, MD, Chief Wellness Officer, Stanford University - School of Medicine, for his presentation, Organizational Efforts to Cultivate Healthcare Professional Well-being: Before and After the Covid-19 Pandemic. Key objectives include: 
Discussing what is known regarding satisfaction and burnout among physicians both before and after the COVID-19 pandemic 
Recognizing the personal and professional consequences of physician well-being 
Recognizing personal and organizational approaches to promote well-being 
50+ Industry Sponsors – Engage with over 50 industry sponsors to learn about the latest updates and advancements in clinical endocrinology. Our virtual expo halls will be open May 26 - May 28 from meeting open until 7:00 PM EST. 

30 Meet-The-Expert-Sessions – Sessions will be covering all six Disease State Networks with the latest in industry research and best practices. 

In-Depth Symposiums – With over 65+ In-depth Symposiums to choose from, you won't want to miss the opportunity to learn from the endocrinology community's top practitioners and researchers. 

CME Satellite Symposiums – This year, AACE has a top tier line-up of Satellite Symposia for your continued learning after dark. Join AACE every evening to continue learning and earn even more CME credits! 

AACE Awards Ceremony – At our Annual Meeting we will be recognizing and congratulating nominees in areas of clinical excellence, education and research, public health, medical ethics, technological innovations, medical advancements, community involvement, individual accomplishments and more. Join us Friday, May 28 to congratulate the 2021 AACE Award recipients. 

Interactive Virtual Games (Diabetes, Bones & Hormones) – We're all looking forward to the days when we can get back to in-person meetings, but since we're going 100% virtual this year, we've amped up our sessions to include fun and challenging interactive games. Test your diabetes, bones and hormones knowledge!

ePoster Viewings – Out of nearly 400 submissions, check out which ePosters were accepted for our 2021 Annual Meeting! ePoster presentations will be displayed May 27 – May 29.   

FDA Updates in Endocrinology, Diabetes, and Obesity – Presented by:  
Naomi Lowy, MD – Deputy Director, Division of General Endocrinology, Office of New Drugs, FDA 
Mahtab Niyyati, MD – Physician FDA 
Laura Higginbotham, MD, MPH – Medical Officer, FDA 
Theresa Kehoe, MD – Division Director, FDA/CDER/Division of General Endocrinology 
Lisa Yanoff, MD – Division director, FDA 
Educate-The-Educators Session – Professional development for educators and clinicians in teaching positions.  

Fellows Induction Convocation – We will be recognizing and applauding our new Fellows as they earn their FACE designation. This is an AACE ceremony of tradition, transition, renewal, and celebration. 

Innovative Round Table Discussion – Obesity and Pop Culture, is it a fad or science? Upon completion, participant will be able to understand: 
How different dietary interventions impact serum lipids 
How certain dietary interventions have demonstrated to reduce cardiovascular mortality in randomized controlled trials 
Why a plant predominant diet is advised for both primary and secondary prevention of ASCVD 
Three Registration Options – Virtual, Virtual plus, or Virtual premium. Learn about the benefits of each tier and how to register here. 

Connect with the AACE Community – Engage with colleagues, industry partners, and make new global connections.   

Latest Endocrinology Updates – Discuss the latest scientific and clinical discoveries in the field of endocrinology, diabetes and metabolism.   

Application – Apply newfound knowledge to the diagnosis and management of patients with disorders of endocrinology, diabetes or metabolism for improved patient outcomes.  

Scientific Research – Assess the potential applications of emerging scientific advances that affect the practice of endocrinology.    

Increased Productivity and Efficiency – As a virtual meeting, attendees can select to attend the sessions that are most relevant to their practice.   

Change of Leadership – Join us as we thank our former President, Howard Lando, MD, and welcome our new AACE President, Felice Caldarella, MD! Dr. Lando and Dr. Caldarella will also be sharing the AACE election results. Must attend to hear those!  

No Traveling Required – This is a great opportunity to join from anywhere in the world and ask live questions. 

Zero Boring Lectures – After reading our 30 reasons to register, we hope you will find that we have zero boring lectures. Don't miss the opportunity to engage with our colleagues, industry partners, and make new connections.
Although our live 2021 Annual Meeting has ended, you can now purchase the on-demand package to learn about the latest advancements in clinical endocrinology and still earn 86+ CME, nursing, and pharmacy credits. 
Accreditation and Designation Statements
ACCME
The American College of Endocrinology (ACE) is accredited by the Accreditation Council for Continuing Medical Education (ACCME) to provide continuing medical education for physicians.
The American College of Endocrinology (ACE) designates this enduring material for a maximum of 86.75 AMA PRA Category 1 Credit(s)TM. Physicians should claim only the credit commensurate with the extent of their participation in the activity.