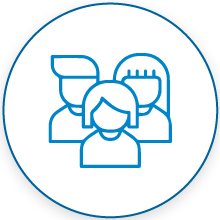 Patient Support Groups
Living with a chronic disease can feel overwhelming, but it's important to remember that you're not alone. There are support groups, communities, and organizations dedicated to providing understanding, encouragement, and resources to individuals living with obesity. Connecting with others who share similar experiences can offer a sense of belonging, empathy, and practical guidance. By seeking support and building a network of individuals who understand and support your journey, you can find strength, motivation, and the knowledge that you are not alone in your pursuit of better health and well-being. Below is a list of groups that support patients and information about how they can empower you throughout your journey.
What are some patient support groups I can join?
The OAC Your Weight Matters Campaign features materials on how to talk to your health care professionals about your weight. Learn more at https://www.yourweightmatters.org/
The OAC STOP Weight Bias Campaign is committed to raising awareness, putting a stop to weight bias, and pushing equality forward. Learn more at https://stopweightbias.com/