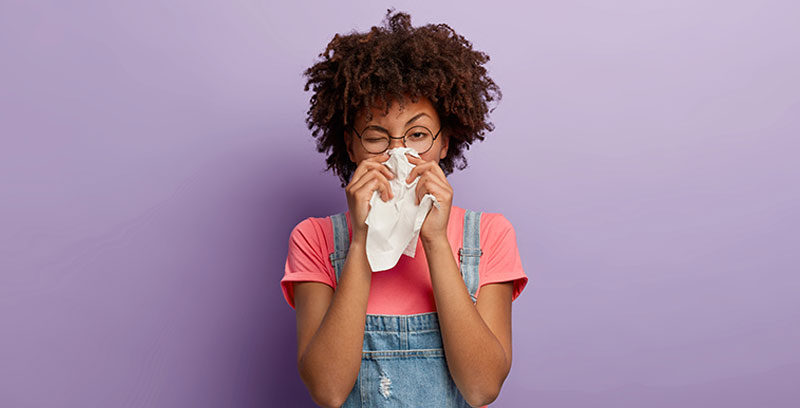 Fever, sore throat, stuffy nose and body aches. The flu can be miserable, and even dangerous for some people —especially those with diabetes or other chronic conditions like heart disease and asthma. With COVID-19 continuing to spread and cause severe symptoms in many people, people with diabetes and other conditions are at higher risk of developing serious complications from the flu. It is more important than ever to take precautionary steps to prevent the spread of the flu.
What Is the Flu Season?
Cold and flu season comes every year around fall and wintertime. During this time, influenza (flu) viruses are more common than any other time of year. Although the exact timing and length varies from one year to another, the flu season typically begins in October and reaches the peak between December and February.
How Does the Flu Spread and What Are Flu Symptoms?
There are different ways that the flu can spread. The main way is through droplets that are made when people cough, sneeze or talk. When people are close to each other (up to about 6 feet apart) these droplets can be passed from one person to another by landing in each other's mouths or noses or being inhaled into the lungs. The flu can also spread through surfaces, although this is less common.
Flu symptoms include fever, cough, sore throat, runny or stuffy nose, body aches, headache, chills and fatigue. Some people also may have vomiting and diarrhea, though this is more common in children than adults. People may be infected with flu and have respiratory symptoms without a fever.
If you have the flu, you are most contagious during the first three to four days of the illness. But most people can infect others with the flu for longer, from about 1 day before symptoms appear up to a week after. This period can be even longer for people who have weakened immune systems. To make matters even more complicated, some people have the flu without any symptoms, but may still infect others.
How Is the Flu Treated?
Most people that get the flu do not need to be treated for the illness. If you are sick with flu symptoms, you should stay home and avoid contact with other people except to get medical care.
If you are at high risk for flu complications (see below for a list of who is at risk) or experience very severe symptoms, let your health care provider know. He or she may prescribe antiviral medication to treat the flu. Antiviral drugs:
Can shorten the time you are sick and make your illness milder, preventing serious complications like pneumonia

Work best when started within two days of getting sick, though can still be helpful later for people with high-risk conditions or who are very sick (hospitalized)

Are prescribed by a health care provider and are different from antibiotics

Come in the form of pills, liquid, inhaled powder or intravenous solution
What Can You Do to Stay Healthy During This Flu Season?
Follow these tips to stay healthy this season and reduce your risk of getting (and spreading) the flu.
Get a flu vaccine! This is the first and most important step in protecting yourself and others against flu viruses.

It is especially important for people at high risk of serious flu complications to get vaccinated. These include young children, pregnant women, people 65 years and older and people with certain health conditions, like diabetes.

Flu vaccines will not prevent COVID-19 but will help free up medical resources for the pandemic.

The best time to get a flu shot is the beginning of September, since it takes about two weeks to take effect.

Follow the recommendations of the CDC Advisory Committee on Immunization Practices (ACIP) that all persons with diabetes mellitus receive age-appropriate vaccinations according to the CDC/ACIP schedule. View the recommended vaccine schedule here.
Avoid close contact with people who are sick. If you are sick, keep your distance from others.
Stay home when you are sick, if possible.
Cover your mouth and nose with a tissue when coughing or sneezing. Throw out the tissue.
Wash your hands often with soap and water. If soap and water are not available, carry small bottles of alcohol-based hand rub to use.
Avoid touching your eyes, nose or mouth to prevent germs entering your body.
Clean and disinfect surfaces or objects frequently.
Avoid unnecessary travel.
Maintain a healthy lifestyle by getting enough sleep, reducing stress, eating right and getting regular exercise.
To learn more about vaccine recommendations including the flu vaccine for adults with diabetes mellitus, download our standard of care pocket guide.